Blogger vs influencer: which one are you? Which one would you like to be? Today's blog post aims to help you with your identity crisis by discussing the differences between bloggers and influencers so you can decide and plan for what you want to do to make money online.
Want to make money online? Well, you're far from being alone.
The online industry is booming nowadays, and because of that, we get to hear new terms for internet marketers floating around, seemingly every day. Blogger, influencer, trendsetter, vlogger, podcaster, and many more.
However, if you're only starting out and have no idea which path to take, it's easy to get confused about which online personality you want to be and what to do to make money online.
This confusion is most evident when people talk about bloggers and influencers. The terms are used almost interchangeably, even though they shouldn't be.
Understanding the differences and similarities between bloggers and influencers will help you plan your path accordingly and decide how exactly you're going to earn money online.
In today's blog post, I'll discuss blogger vs influencer so you can learn the differences.
BUT FIRST, how about signing up for our FREE course?
If you're serious about earning money online, we can help you every step of the way; from finding your niche to creating and optimizing your website so you can attract more readers. What are you waiting for? Click here to sign up! >>
Blogger Vs Influencer
To know the difference between a blogger and influencer, let's first describe each term and examine what makes someone a blogger or an influencer.
Blogger
The term "blogger" is used widely, sometimes indiscriminately.
So what do we mean when we say "blogger"?
The very short, simplistic answer is that a blogger is someone who manages a blog.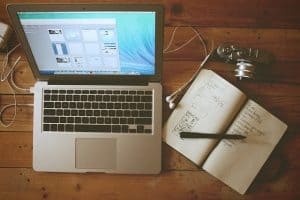 A blogger has their own website. A blogger maintains their own website from which they publish their own original content.
I mean no disrespect to those who blog on free platforms, but for the sake of this discussion, let's restrict "blogger" to those who own their websites. This is because bloggers who have their own website have ultimate control over the content they publish.
Not only are bloggers responsible for their own content, but they are also free from the rules and the relative uncertainty of social media platforms. Social media platforms regulate the content that can be displayed on their platform, and they regulate which users the content is shown. Plus, if a social media platform shuts down, all the content you have uploaded goes down with it.
A blogger creates valuable, informative content. Not only should bloggers own their website and create their content, but they need to create worthwhile content.
Bloggers produce content that readers can use to enrich their lives by solving problems or gaining knowledge on a specific topic. Text, images, or video, whatever form of content a blogger puts out, they should be useful and relevant.
A blogger isn't necessarily an influencer. Here's where most of the misconceptions begin; just because you own a blog doesn't automatically mean that you're an influencer.
You can own a blog and publish valuable content, but if you don't have a sizeable number of subscribers or readers, you don't have anyone to influence, and thus, you can't technically be called an influencer.
A blogger can become an influencer. So when does a blogger become an influencer?
Bloggers often review products and services in their niche that they use and like. As their popularity grows, companies may offer to sponsor blogger-created content, either in cash or in kind (i.e., companies can send their products free of charge to these bloggers in exchange for posting content about it).
If that blogger has an interested, engaged audience, this audience is likely to follow the recommendations of that blogger.
Now, even when a blogger is highly popular, it doesn't always follow that their audience will be influenced to buy, so unless there's an uptick in purchases, sign-ups, or whatever metrics companies use to measure product sales or service subscriptions, that blogger still wouldn't be considered persuasive.
Bottom line: A blogger is someone with a website where they host a blog and publish their own original, valuable content.
Want to know how start a blog? Look no further!
We offer a FREE course that can help you build a blog from the ground up. Click here to sign up for our course! >>
Influencer
So, then, what do we mean when we say "influencer"?
Influencers use their platform or multiple platforms to motivate their followers to purchase products and services from brands and companies they're working with.
An influencer promotes products and services through their platforms. You know you've stumbled on an influencer's Instagram when their feed contains visually stunning flatlays of products or carefully lit photos of them having a good time while using a specific product.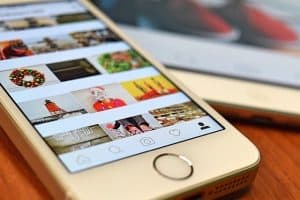 These photos and the accompanying captions and hashtags are designed to showcase products and services to their followers. These are more effective when their whole feed reveals a certain kind of lifestyle that appears desirable to their followers.
An influencer isn't necessarily a trendsetter. A trendsetter is someone who can impact an audience enough to start trends. However, not all of these trends involve purchase decisions by an audience (plus, they're rarely paid for starting a trend). For instance, whoever started the #WhatTheFluff challenge video trend (this is a great compilation) probably wasn't trying to promote or sell anything, and yet started a viral, if short-lived, trend.
An influencer, on the other hand, can either start a trend or follow a trend; the more significant thing is that they can convince their audience to spend money on that specific trend. For example, that video of Justin Bieber, Selena Gomez, and Ashley Tisdale along with their friends lip-syncing to Call Me Maybe started a trend and likely translated to a lot of single and album sales and downloads for singer Carly Rae Jepsen.
An influencer doesn't have to have a blog. They can be influencers in one or more platforms, which may or may not include a blog. Think of an online platform that allows users to have followers, and that platform almost certainly has its own influencers for a given niche. Examples of platforms that influencers could be on include Twitter, Facebook, Pinterest, and YouTube.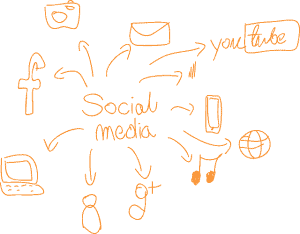 Probably the most universal examples of influencers are the Kardashian–Jenner sisters. According to a recent court filing, a single Instagram post by Kim Kardashian–West endorsing a product can cost somewhere between "$300,000 to $500,000."
Other not-so-famous influencers may not earn that much for a single post, but they can get various deals with companies, such as sponsored posts or freebies.
An influencer can become a blogger. A number of influencers eventually become bloggers. Influencers are concerned with expanding their audience, and starting a blog after they've become popular in other platforms is only a logical transition.
If anything, this gives them more credibility; creating long-form content entails subject expertise and outstanding writing skills. Having these skills should amaze their existing followers as well as attract new followers.
Bottom line: An influencer is someone with an online platform who has a massive following and therefore a large impact on an audience's buying decisions.
No buying decisions to be made here…
…because our training is FREE! Learn the best ways to make money online today! Act now >>
Blogger Or Influencer: Which One Do You Want To Be?
You can be a blogger and publish helpful articles for your readers.
Or you can be an influencer and promote products and services that will benefit your followers.
A third option is to be both a blogger and influencer. You don't have to be exclusively one or the other.
Whichever business strategy you take, it's best to be informed. Here are some thoughts to ponder while you're deciding.
Having a blog increases your trustworthiness as an influencer.
Creating a blog and posting valuable content for your readers allows you to be a more effective influencer because the more problems you solve for your readers, the more credibility you'll have with them and the more likely they'll follow your recommendations.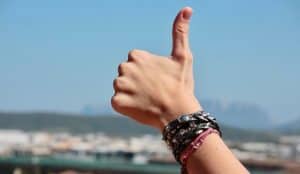 In addition, having a blog increases your standing not only with your readers but with brands and companies. Of course, brands are willing to work with influencers without blogs, but having a blog in place with plenty of helpful blog posts boosts your chances of being approved and your asking rate. After all, it takes considerable effort to create a substantial blog post.
This is particularly useful information if you don't already have a large audience to begin with (i.e., you aren't a celebrity). It's doubly hard for new influencers to get new followers in social media platforms because there are simply too many influencers around, so having a blog gets you an edge over competing influencers.
Maintaining a blog requires a great deal of effort and skills.
Being a blogger is no cakewalk.
Building your website, creating content, optimizing for search engines, promoting your website across multiple platforms, and engaging with your readers all entail hard work.
Meanwhile, you'll have to learn plenty of different skills, such as basic website setup, basic HTML, writing, marketing, photography and design, search engine optimization, and many more.
On the other hand, all you need to get started with a social media platform are an email address, a camera or smartphone that takes high-quality photos, and an internet connection, and you're all set.
Consider how much time and effort you're willing to invest when deciding between becoming a blogger or an influencer.
Different platforms, different expectations.
When you are on multiple platforms, you should already have an idea of how different platforms are perceived by their respective audiences.
Audiences expect more authenticity in a blog. Blog posts are perceived to be more thoroughly researched, as well as more personal. Thus, any recommendations and testimonials that are published by bloggers are perceived as more believable and convincing.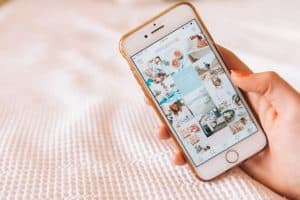 However, the same can't be said for other platforms, especially Instagram. The current trend is to project a lifestyle for their followers to aspire to by showing various products and services in the best light possible, particularly influencers using products and services. High quality, stylized, filtered photos are almost the norm for Instagram influencers.
Consider your business goals.
It's only logical that your business strategy should serve your business goals.
If you only need to earn money online for a short period of time, such as if you have some free time in between jobs and you want time off from your day job while still earning some income, being an influencer for a while can be a viable strategy for you.
But if you're in it for the long haul and plan to create a business that will be your main source of income for years to come. As I've mentioned above, being a blogger is more hard work than being an influencer, but again, the rewards are more substantial. Of course, you can earn money from sponsored posts, but you can go beyond that. You can eventually go into e-commerce or expand into a membership site.
Want to learn all the ways you can monetize your blog?
Then sign up for our FREE training to start learning today! Click here to enroll now! >>
Final Thoughts
Blogger vs influencer: it's not a contest.
But there are differences, and if you plan to go into internet marketing, you need to be able to tell the difference so you can decide which strategy to take.
Here's a recap of the most important points I made above.
Blogger Vs Influencer
A blogger is someone with a website where they host a blog and publish their own original, valuable content.
An influencer is someone with an online platform who has a massive following and therefore a large impact on an audience's buying decisions.
Not all bloggers are influencers.
Not all influencers are bloggers.
Bloggers can become influencers.
Influencers can become bloggers.
Before you start building your blog or drumming up followers for your blog, here are a few reminders.
Be honest with your readers and followers.
Your first obligation is to your audience.
Remember, your success depends on whether you're able to effectively help them solve their problems, either by providing valuable information or persuading them to go with the right products and services. Thus, you need to have the integrity to supply them with the right information and to recommend merchandise that will truly benefit them.
Also, if you do decide to work with companies and have them sponsor your content or send you free gifts, make sure you disclose that you received compensation for the content or that you received the item you're promoting for free, as well as whether or not you were obliged to feature said item in your content. Aside from being required by law, you build greater trust in your audience when you are forthright with information that may affect what you say about the products you promote.
Be honest with everyone who collaborates with you.
The last thing you want to do is disappoint anyone because you promised something you couldn't deliver.
You should know how much work and the quality of work you can put out, especially if you've been a blogger or an influencer for a while. Consider your usual blog maintenance activities and of course your daily activities when you review offers from companies to work with you.
Don't overpromise and underdeliver; be straightforward about your strengths and limitations.
Be honest with yourself.
You can be a blogger, you can be an influencer, and you can be both a blogger and an influencer. Whatever you are now and whatever you decide to be, the important thing is to be true to yourself. That sincerity will find its way to shine through your content, no matter where you publish them, which will attract the right followers and inspire loyalty in existing followers.
Over To You
So are you (or do you plan to be) a blogger, an influencer, or both? Sound out in the comments!
The post Blogger Vs Influencer: Which One Do You Want To Be? appeared first on Stopping Internet Marketing Scams.